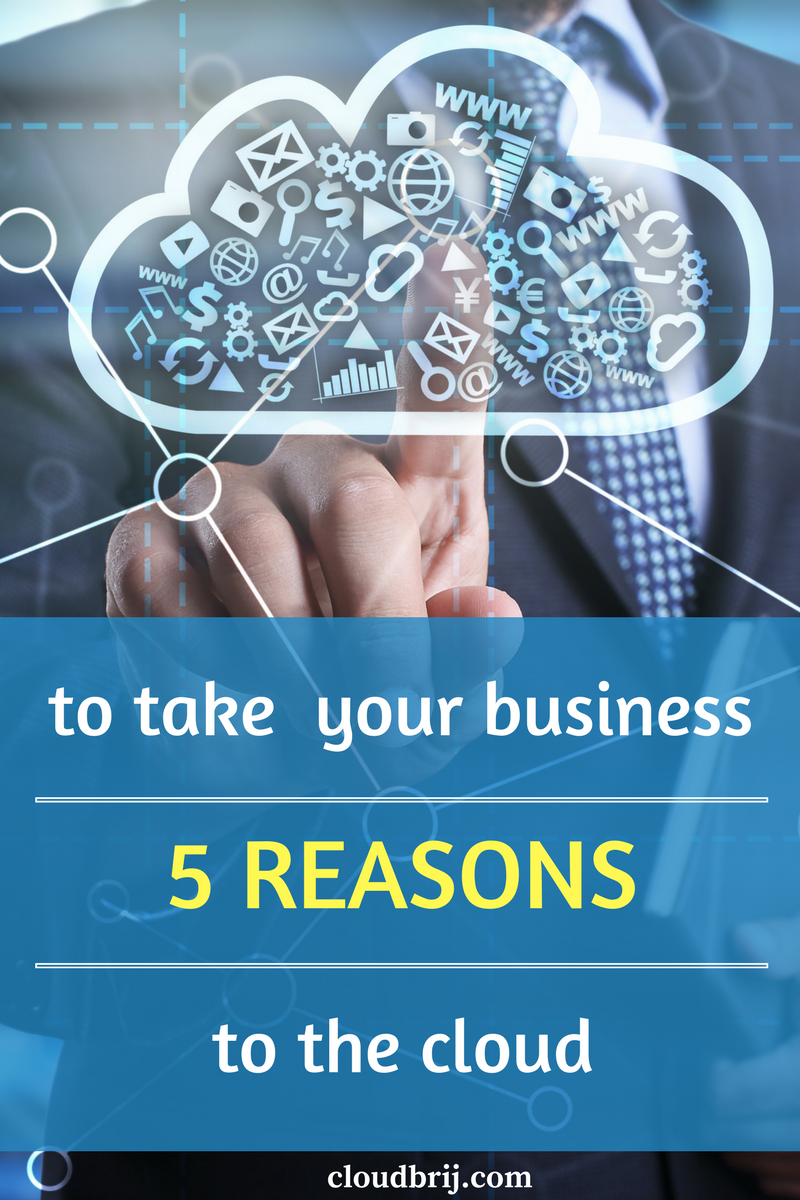 5 Reasons to Take Your Business to the Cloud
5 Reasons To Take Your Business To The Cloud.
Cloud computing is the next generation of business IT infrastructure. That's just a fact. The market share of cloud products is already worth $8.3 billion and is forecasted to rise to over $20 billion by 2020.
But moving from an on-premises infrastructure to a cloud-based solution can be a daunting prospect. If you need a bit of a push, we've compiled 5 great reasons that you should take your business to the cloud.
Reason #1: Cloud computing provides Increased Agility And Scalability
On-premises infrastructure is totally static, and it can be extremely expensive and time-consuming to upgrade your existing hardware to support your future business needs – often requiring specialized IT consultants and dozens, if not hundreds of man-hours.
This is not the case for cloud-based SaaS (Software as a Service) IaaS (Infrastructure as a Service) and PaaS (Platform-as-a-Service) platforms. Cloud-based computing is eminently expandable and scalable – if you want to expand your capacity or increase your computing power, it's as simple as flipping a switch.
Reason #2: Cheaper WAN access through SD-WAN Infrastructure.
WAN access has been a large factor that has kept some business from going to the cloud. Businesses without a WAN are loath to invest in one, given the high cost – but a reliable WAN is necessary for access to cloud infrastructure.
Enter SD-WAN technology. Cloud and SD-WAN were totally built for each other. SD-WAN allows you to connect to cloud-based systems and to other high QoS (Quality of Service), cloud-based architecture reliably and efficiently – at a fraction of the cost of a traditional WAN network solution.
This because SD-WAN uses software to create a WAN out of multiple network connections, including LTE, commercial broadband, and high QoS rented lines like MPLS.
By routing network traffic through the best connection – server, database, and network traffic through MPLS lines, web browsing, and less important traffic through broadband connections – SD-WAN can offer huge cost savings over traditional WAN – while still offering the performance you need for high-reliability connectivity with your cloud technology.
Reason #3: Cloud Computing can greatly Reduce Costs
One of the most attractive benefits of cloud computing is greatly reduced cost. You are no longer responsible for the maintenance or upkeep of expensive servers, saving valuable man-hours – and you only pay for what you use.
This is in contrast to a traditional, on-prem infrastructure. You must pay for every license upfront, and if you're not using all of your capacity, you're basically throwing money away, with no way to get it back.
With cloud computing, you can keep your infrastructure costs low until you need to scale, increasing your flexibility and decreasing costs.
Reason #4: Cloud computing provides more efficient and reliable support
Taking care of a specialized on-premises IT infrastructure is literally a full-time job – most companies have several staff members dedicated just to upkeep, which is often not their top priority on the IT team.
If you move to the cloud, your service, support, and maintenance will be taken over by experienced, well-trained support staff, saving your IT team valuable man-hours and increasing the reliability and uptime of your cloud computing technology. Problems that may have taken dozens of hours to fix in on-prem architecture can often be solved with a simple patch deployment by a SaaS or PaaS provider.
Reason #5: Lower start-up costs
This is one of the absolute best reasons to invest in cloud computing. You don't have to make a gigantic capital investment in upgraded servers which may become obsolete in just a few years – instead, you simply sign a service contract and get immediate access to top-tier technology that's scalable, upgradeable, and futureproof.
The huge cost of investing in new servers and infrastructure is one of the main reasons that so many companies are suffering from outdated infrastructure. Using outdated IT infrastructure decreases productivity and means you are less likely to be able to beat your competition.
Interested In Cloud Computing? Need An SD-WAN Consultation? Talk To Cloudbrij
Cloudbrij specializes in deploying custom SD-WAN solutions built for business moving to the cloud.
Our approach to implementing SD-WAN technology ensures that you get maximum performance for minimum cost and that your new cloud computing technologies will be easily accessible, highly available, and will perform to the absolute highest standards.
Visit us at Cloudbrij.com today, and see how we can help your business lower costs and increase agility with an SD-WAN built for the cloud.