Traditional WAN vs. SD-WAN
Create WAN agility and efficiency at a lower cost using software based virtualization
SD-WAN allows for deployments 10x faster at a savings up to 60% from traditional WAN.
The Struggles of Traditional WAN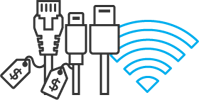 Very Expensive
Traditional WAN, especially MPLS, requires a single provider to access many sites. Most often, this provider is "white labeling" or reselling the services of other providers native to your branch locations. This is called a Type 2 circuit and only adds unnecessary costs to your WAN.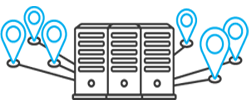 Datacenter Dependent
Traditional WAN does not allow for branches to have direct access to cloud resources using a "hub and spoke" network design. Traffic backhauled through the datacenter carries heavy performance penalties. This is one of the major disadvantage of traditional WAN.

Inflexible
An MPLS network creates a single point of failure in your network and makes it very difficult to allow for a failover solution of equal performance and security without a highly expensive and complex solution.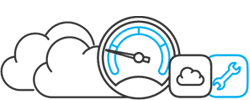 Unpredictable Performance
Another drawback in traditional WAN is application traffic over internet connections lacks SLAs and the reliability needed by users. Prioritizing data over VPN between branches is difficult and causes performance challenges of key applications such as voice and video.
Enter SD-WAN

Dynamic Multi-Path
Allows for dynamic per packet steering of data across the best available link in real time.
On demand link remediation of latency, jitter, and packet loss
Provides true redundancy in a Primary-Primary configuration of circuits

Cloud Optimized
Improve performance by allowing branches direct access to cloud applications without sacrificing security
Peer at the core level with many cloud applications such as Amazon Web Services, Microsoft Azure, Office365, Hosted voice providers, and many more…
Access enterprise grade firewalls such as Zscaler

Classes of Service
Prioritize data across all of your connections including voice, video, or certain applications
Classifies over 3000 applications by default
Customize bandwidth needs of certain applications with a single click

Maximize ROI / TCO
Achieve savings of up to 60% utilizing multiple circuits with higher bandwidth
Work with any type of circuit… MPLS, fiber, broadband, 4G/LTE, etc… without sacrificing quality
Pay-as-you-grow  -> subscription based service allows your bandwidth to increase without any hardware or software upgrades.