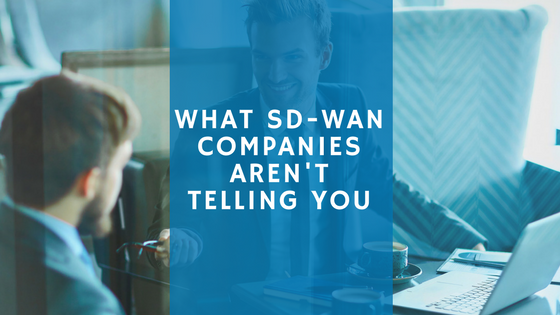 What SD-WAN Companies aren't telling you
What SD-WAN Providers Aren't Telling You
SD-WAN is a huge topic in today's networking world. More and more business are turning to SD-WAN as a great, cost-effective way to connect their networks and ensure top QoS (Quality of Service) while minimizing reliance on the over-provisioning of expensive services like MPLS.
The rapid adoption of SD-WAN has spurred quite a bit of competition – there are now dozens of companies chomping at the bit for market share, and everywhere you turn, some new SD-WAN startup has announced that they've finally found the "secret sauce" that's going to make SD-WAN the new industry networking standard.
But here's what they're not telling you.
All SD-WAN Companies Are The Same… Sort Of
All SD-WAN companies are the same. That is, all SD-WAN companies offer the same service. Where they differ is in their specific approach – and that specific approach can vary quite widely. When it comes to the process of how to select an SD-WAN provider, it's best to think of their service like a pizza.
Each SD-WAN company is making a pizza – but their "toppings" differ. One SD-WAN service might be offering a pizza with just pepperoni – and the pizza is pretty cheap, and pretty tasty. Another might be making a pizza with gourmet ingredients, and it might taste a better – but it'll cost you. However, if you really need olives, knowing the provider who can deliver is important.  Some of these distinguishing features could be technologies like virtualized WAN, Long haul WAN optimization, differing levels of appliance based security, or specialized routing features – each individual SD-WAN approach is different.
However, the product does the same basic thing at the end of the day – a method by which you can ensure a great quality of service when you need it, and reduce costs and increase redundancy for less-than-mission-critical web traffic.
This is not to say that these slight differences in implementation and architecture aren't important – they are – it's important to understand which of these features are offered by which provider before you waste months on a proof of concept.
The True Test Of An SD-WAN Company Isn't Just In Performance – But Also In Service
The best SD-WAN implementation in the world can fail with poor service and implementation. Service is absolutely the most important factor when it comes to how to choose an SD-WAN provider.
It doesn't matter what life-changing benefits the service provider gushes about on their website – if you contract with a company who offers a subpar service, you'll get a subpar service.
Using an SD-WAN is a big step for your network infrastructure. If you decide to implement SD-WAN technology, it will become the backbone of your WAN infrastructure, and will almost certainly become one of the most important pieces of your networking and IT infrastructure.
This aspect of an SD-WAN company is absolutely the most important – and the Cloudbrij dedication to total quality and support is what truly distinguishes our company from the rest of the pack.
At Cloudbrij, we work through a comprehensive, four-step process to ensure a successful deployment of service. We are very familiar with the differences and feature sets of SD-WAN providers in the market and will lead you to the right decision out of the gate.  We assess your unique needs, design and plan an SD-WAN system for your specific needs, and deploy your SD-WAN system with a phased migration plan that will not impact your business.
And we don't stop there. The fourth step is the most important – support. We will always support our products, and offer services up to full network monitoring and management, if necessary. We will issue you monthly reports on usage and performance, monitor your circuits in real-time, and manage your billing with monthly bill reviews – no mystery fees!
If you're looking for one of the very best SD-WAN Providers in the market, you've found the right company. schedule a free consultation or visit our website today.